3 Flares
Made with Flare

More Info

'>
3 Flares
×
Buying jewelry isn't just for women these days but men can also get their share of wearing great looking jewelry. There are increasingly more options available for men and it can be a great gift idea for men as well. Here are some of the best ideas for men's jewelry that you should consider if you are picking out jewelry for yourself or want to surprise your loved one.
Freshen Up With A Necklace
An adventurous idea is to go for a necklace. There are more and more options for men's necklaces these days beside the traditional golden chains. Necklace looks great with both casual and official styles if chosen correctly.
Skull and cross necklaces are a very safe option in men's necklaces. More trendy option is to go for leather ropes and chains, which give a great urban and earthy touch to men's look. A necklace with a stone attached is also becoming more popular choice among men. For instance, turquoise stones are very hot at the moment.
A great idea is to get a necklace with a tag attached. This tag can also be engraved with a symbol or a text to add more personal flair to your necklace. This is also a great gift idea if you are buying it for a special man in your life.
Something Traditional
Of course a great traditional piece of jewelry for men are watches and you should really invest into a great looking watch. There are a lot of different options and GQ magazine suggests buying two watches to suit both casual and more official situations.
For instance, a great showpiece watch with a big display can really sharpen up your business look and bring something special to your style. For more casual situations it is a great idea to buy something more traditional and something that goes well with a lot of different outfits.
If you or the person you are buying the watch to is very sporty then there are a lot of great options out there. These days watches even have a lot of different options from providing a compass and heart rate monitor for instance to suit your needs. This makes the jewelry very practical as well.
Rings Aren't Only For Married Men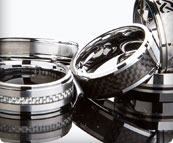 Rings are a really trendy option to go for at the moment. When it used to be that only married men wore rings, today rings as an accessory are much more common. There is a lot of great variety in rings as well. A great looking ring can be a real eye catcher and really complete your look.
A great option in rings for men is tungsten rings, which give a really manly look and are extremely durable. Men's Tungsten Online jewelry offers a lot of great looking tungsten rings that you should browse through.
These are some of the best jewelry ideas for men. They work great whether you are looking for new ideas to yourself or wanting to buy something different for your loved one. There is a long historical tradition for men to wear jewelry and it is lovely that this trend is again catching on.
Featured images:
[schema type="review" url="www.jeansfashionista.com" name="Jeans Fas" description="Jeans Fashionista – A Jeanscyclopedia Jeans for U and me. Jeanscyclopedia is a jeans encyclopedia of for all Jeans Lovers"
Francis is interested in fashion and is constantly looking at different trends to freshen up his look. He loves freshly brewed coffee and can't wake up without a cup of Columbian dark coffee.